Concept


New service – Virtual Office
Organize your office without need to rent a space and staff.
see more

»

Charity children share Scouting club
BPV join charitable initiative of children in Scouting club
see more

»


tel.: + 359 52 912 601

fax: + 359 52 912 602

e-mail:
office@bpv.bg

www.afi-europe.eu
Business Park Varna
is the largest investment in Bulgaria by the international company AFI Europe. The company is focused on investment and development of innovative and high-tech projects, making it one of the biggest real estate investors in Europe. Its project portfolio covers office and commercial areas, logistics parks and luxury residential buildings in Czech Republic, Serbia, Romania, Germany, Latvia, Hungary, Poland and Bulgaria.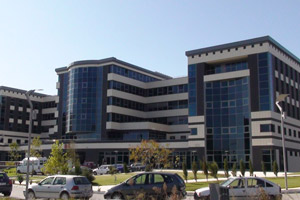 AFI Europe
is proud to present the project which improves the way the sea capital of Bulgaria looks -
Business Park Varna
.
Business Park Varna
is the first of a kind complex consisting of multifunctional office buildings with unique design and quality, excellent infrastructure, parking excessive green areas corresponding to the highest international standards.
Business Park Varna
is located on an area of 67,430 square meters at the entrance of the city, south of Hemus Highway. It is directly accessible from I-2 highway and Zapadna obikolna (West Roundabout) Street. This unique location allows you to get downtown or to Varna International Airport fast and easy. AAA-class multifunctional buildings offering open space offices allow flexibility in the layout of hired spaces and an enormous potential for expansion and development.
For maximum comfort and facility, the companies have at their disposal office and retail spaces, storages, underground and open-air car parks. BPV provides also 24 hours security and maintenance, as well as a wide range of services.
Upon completion of the project, the Park will have 8 business buildings, around 200,000 sq.m. total floor area - offices, retail areas, storages, as well as more than 2,000 parking spaces.
The excellent infrastructure including independent power supply and telecommunication support provide all workers in Business Park Varna with a perfect business atmosphere entirely devoid of daily life problems.

SEE THE COMPANY MOVIE »